The Enchanted Puppet Theatre brings fairy tales, folk tales, and original stories alive through the use of puppetry. The portable theater features three stages for hand puppets, stick puppets, shadow puppets, and marionettes. Shows are 20-30 minutes in length.  Target audience age is 5-10 years.
Additionally, some shows can be followed by make-and-take sessions where participants make finger or hand puppets using provided material. Make-and-take sessions are 20-30 minutes in length.
The theatre and puppet troupe can come to your school, home, festival, or other event.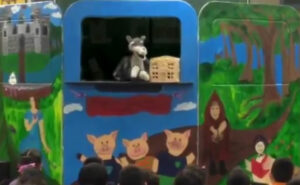 Theatre Space Requirements
Width: 12' side to side
Depth: 6' front to back
Additional Depth: 8' clearance between the stage and audience
Accessible 120-volt outlet is required.
Shadow puppetry shows have additional lighting requirements.
Make-and-take requires adequate seating and work surfaces for all participants.
Fees
Performance fees vary. Please contact Mr. Berlin to get an official quote. A 30-minute local show is approximately $250 per 60-person audience.  Additional performances are $50 each.  Excessive gaps of time between performances are extra. Make-and-take activities are extra.  Travel and lodging expenses may also be required if the performance venue or time of day requires it.  Mr. Berlin is based in Kemah, Texas.
Background

A lifelong fan of the puppetry arts, Mr. Berlin has used puppets in his elementary music classroom for many years. Early influences included:
Sesame Street, The Muppet Show, Fraggle Rock, and the numerous Henson films
The Great Space Coaster
Mister Rogers' Neighborhood
Outerscope 1 from Vegetable Soup
The Thunderbirds
And while modern television and film puppeteers have taken puppetry to a whole new level with shows like
The Sifl and Olly Show
Greg the Bunny
Team America: World Police
The Happytime Murders
and The Dark Crystal: Age of Resistence;
Mr. Berlin has found that in live storytelling, simple things can often ignite the imagination to spectacular effect.
Modern live puppeteers that have been influential include:
Kathryn Hatch Bizzell (my puppetry mentor)
Mr. Berlin is a member of:
Additionally, Mr. Berlin is affiliated with:
American String Teachers Association
Guitar Foundation of America
Guitar Initiative
Gulf Coast Guitar Association
National Association for Music Education
Organization of American Kodály Educators
Suzuki Association of the Americas
Texas Guitar Directors Association
Texas Music Educators Association
The Stage
The performance stage was lovingly crafted by Rogelio "Roy" Serrano who passed away in 2018. Although the current shows and characters are different from the original "Rogelio's Enchanted Puppet Theater", Mr. Berlin is proud to carry on the tradition of entertainment and education begun by Mr. Serrano.