Shortly after sunrise, the master surveyed the assembly of hopefuls.
"Raise your hand," he said, "if you truly want to be a puppeteer."
Each person there raised a hand.
The master smiled and said, "I'll be back at dusk, " then turned and walked away.
Brian Berlin 2019
Puppet-Object Art Shows
Current production (in development):
Jesus and Black Jesus
A comedic examination of contemporary social issues through the eye and experiences of two retired men with too much time on their hands.
I am currently seeking sponsorship and a venue for this show.
Commercial Advertising
Have your business stand out from the massed-produced over-crowded television field with original puppet-object commercial spots.
Collaboration
Contact me about what you have in mind.
Family Puppet Shows
Mr. Berlin's Enchanted Puppet Theatre brings traditional tales and original stories to life through the use of puppetry. The portable theater features three stages for hand puppets, stick puppets, shadow puppets, and marionettes. Shows are 20-30 minutes in length.  Target audience age is 5-10 years.
The theatre can come to your school, home, festival, or other event.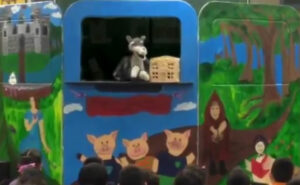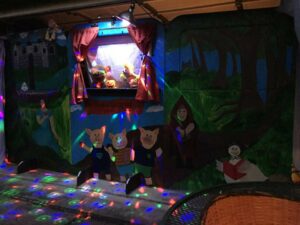 Theatre Space Requirements
Width: 12' side to side
Depth: 6' front to back
Additional Depth: 8' clearance between the stage and audience
Accessible 120-volt outlet is required.
Shadow puppetry shows have additional lighting requirements.
Make-and-take requires adequate seating and work surfaces for all participants.
Background

Mr. Berlin is a member of:
Additionally, Mr. Berlin is a member of or affiliated with:
American String Teachers Association
Guitar Foundation of America
Guitar Initiative
Gulf Coast Guitar Association
National Association for Music Education
Organization of American Kodály Educators
Suzuki Association of the Americas
Texas Guitar Directors Association
Texas Music Educators Association