– ALL LIVE SHOWS ARE PRESENTLY ON HOLD. STAY SAFE. –
Shortly after sunrise, the master surveyed the assembly of hopefuls.
"Raise your hand," he said, "if you truly want to be a puppeteer."
Each person there raised a hand.
The master smiled and said, "I'll return at dusk," then turned and walked away. Copyright © 2019 Brian Berlin. All rights reserved.
Puppet-Object Art Shows
MR. BERLIN'S ENCHANTED PUPPET THEATRE (2020)
A puppet play by Brian Berlin
A quirky one-man puppet riff about a stage show trying to survive in a modern streaming society and a powerful exploration of artists searching for meaning and identity through their craft. Mr. Berlin's Enchanted Puppet Theatre has lyrical poetry, live music, and commentary on the world in which we live. In this show-within-a-show, the real drama begins after the curtain falls.
SEE: PUPPET BIOS
Performance: Saturday, March 7, 2020 at 1:00 pm. Helen Hall Library, 100 W. Walker St. League City, TX 77573
COLLABORATION
Contact me about what you have in mind.
Family Puppet Shows
Mr. Berlin's Enchanted Puppet Theatre brings traditional tales and original stories to life through the use of puppetry. The portable theater features three stages for hand puppets, stick puppets, shadow puppets, and marionettes. Shows are 20-30 minutes in length. Target audience age is 5-10 years.
The theatre can come to your school, home, festival, or other event.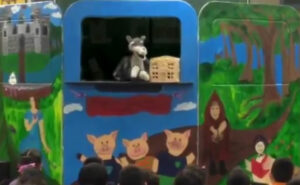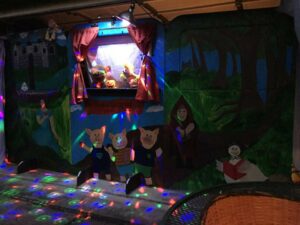 Enchanted Theatre Space Requirements
Width: 12′ side to side
Depth: 6′ front to back
Additional Depth: 8′ clearance between the stage and audience
Accessible 120-volt outlet is required.
Shadow puppetry shows have additional lighting requirements.
Make-and-take requires adequate seating and work surfaces for all participants.
All family shows require active adult supervision of young audience members.
Background
Mr. Berlin is a member of:
Additionally, Mr. Berlin is a member of or affiliated with:
American String Teachers Association
Guitar Foundation of America
Gulf Coast Guitar Association
National Association for Music Education
Organization of American Kodály Educators
Suzuki Association of the Americas
Texas Guitar Directors Association
Texas Music Educators Association