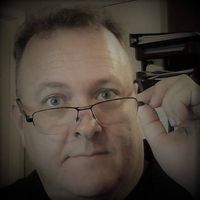 BRIAN BERLIN (b. 1972) is an American independent singer-songwriter and multi-instrumentalist from Kemah, Texas. Brian is a prolific songwriter who has been honing his art for over twenty-five years. It is only in the past few years, however, that he has begun sharing his unique work publicly.
Beautiful, Flawed, Complicated
Like the artist himself, Brian's music can be beautiful, flawed, complicated, and rich with ironic contradictions. His song topics include aging, cognitive lost, courtship, empowerment, the environment, end of life, introspection, loss, novelty, purpose, relationships, romance, social commentary, and traditional vignettes or story songs. He feels that the darker, painful, and even shameful parts of our own lives are the areas that are the most interesting to explore artistically. Brian identifies with the Fluxus creative movement of the 1960s and 1970s and considers himself to be a contemporary Antifolk artist. Huh? Singer-songwriter, Americana, folk, alt-country.
"Ishtar" was Possibly the Best Movie Ever Created
His two favorite snacks are Mother's® Iced Oatmeal Cookies and popcorn. You needed to know this. He drinks black coffee. He has worn K-Swiss Classics since 1988. He loves Grandpa's Pine Tar Soap. Brian loves puns. He enjoys going to movie theatres (see previous comment about popcorn) and feels that "Ishtar" is a seriously underrated film. In addition to spending time on the Texas coast, Brian likes to spend time at his fishing cabin in Louisiana. During the day, Brian teaches music and actually holds a doctoral degree in music education.