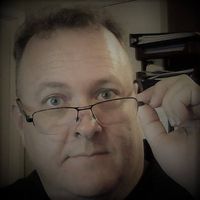 BRIAN BERLIN (b. 1972) is an American independent singer-songwriter and multi-instrumentalist from Kemah, Texas. Brian is a prolific songwriter who has been honing his art for several decades. It is only in the past few years, however, that he has begun sharing his unique work publicly.
Beautiful, Flawed, Complicated
Like the artist himself, Brian's music can be beautiful, flawed, complicated, and rich with ironic contradictions. His song topics include aging, cognitive lost, courtship, empowerment, end of life, humor, introspection, irony, loss, purpose, relationships, romance, social commentary, and traditional vignettes or story songs. He feels that the darker, painful, and even shameful parts of our own lives are the areas that are the most interesting to explore artistically.
They Say
"I really enjoy your voice, Brian. =) There's a calm in your voice that's very soothing and the melancholy of your songs gives context and dimension. Your performances are always so heartfelt and intimate. Thank you. =) "
"You are one of the most talented people I know."
"…waiting for Brian's next live performance. He is a good song writer… I am a fan."
"I so admire all that you do — you are prolific as hell."
"…I think your musicianship is awesome 🙂 I am a fan 😀 "
"[Your show] was amazing. Seriously. I was… amazed. You are so talented. Tbh, I loved it a lot more than the recorded music. Live music is so charming. I think you sounded brilliant."
"Your interpretation of covers is sublime — really wonderful."
"Booo Brian"